For all you enthusiasts and beginners alike looking for some last good outdoor climbing before the winter really gets dirty may I suggest St. George. While we were there we met some Canadians who had made the trip to enjoy the warm weather. The geographic location of the city is what makes St. George such an ideal spot for climbing or just vacationing in general. It sits in southwest Utah, just a short drive from Las Vegas in case you want a temporary break from the outdoors.  It enjoys the red rock formations and warm weather, characteristic of that area of the country.
Oh and one more thing, everything is so close together! We stayed there for just one night and were able to go to three different spots while never having to drive for more than twenty minutes. A lot of these spots are pretty accessible and do get a lot of traffic but that's why you go in the late fall/winter!
For those of you that have not yet experienced the goodness that is St. George, here are some cool spots you can go for your first time.
1. Pioneer Park Slot Canyon- Now for those of you who have been to St. George, I know what you're thinking, Pioneer Park is more of a family friendly park then a good climbing spot, but hear me out. In the park there is a slot canyon on the northeast side that widens near the base and that is where you can climb. There are about three or four routes that are all fairly challenging. However, the great thing about these routes is that you can climb around to the top if you aren't comfortable top roping.
2. Chuckwalla Wall- This has got to be one of the most popular climbing sites in St. George. There are a lot of routes and a wide range of difficulty- therefore it gets a lot of traffic and most of the holds are pretty chalked. If this is on your list of places to climb, now is the time to go. It was just us and one other group climbing while we were there, and it was about 60 or 70 degrees the entire time.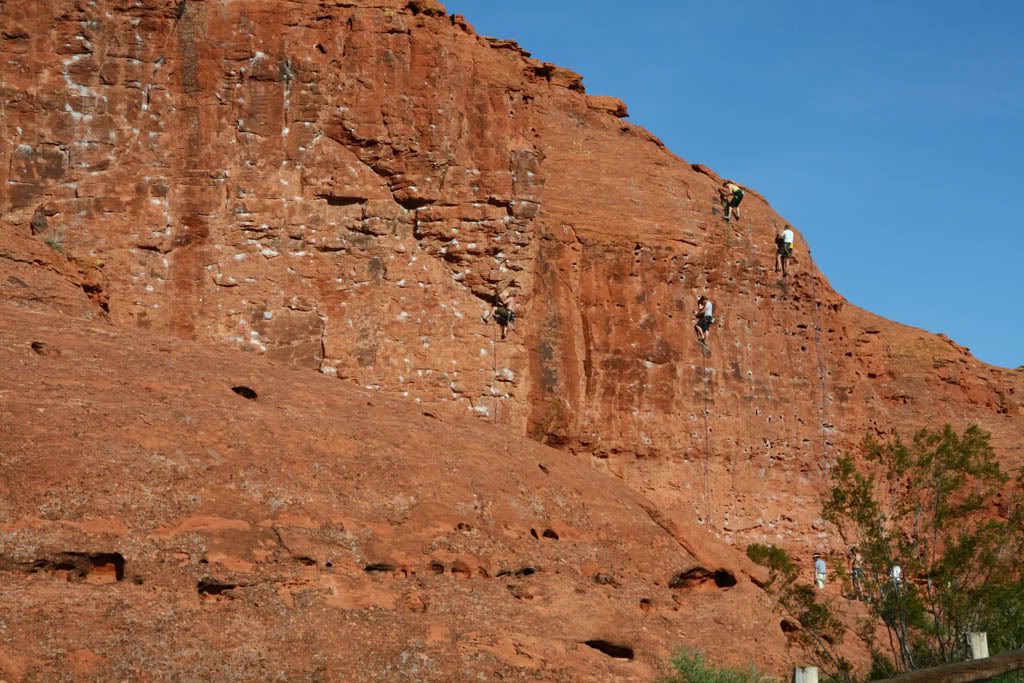 3. Black Rocks-  This was our third and final stop but it was legite nonetheless and definitely worth a visit. Black Rocks is a nice break from most of the climbing in St. George because it's not sandstone. It also has the widest variety of difficulty of any of the sites we visited. I'm pretty sure the rock is basalt and the area has a shady side and a sunny side, routes range from a 5.7-5.13's. It readily satisfies many different levels of expertise.